High Current DC-DC Converter – 12V/6A Output from 16V to 38V DC Input
Rajkumar Sharma

102 Views

moderate

Tested

SKU: EL130615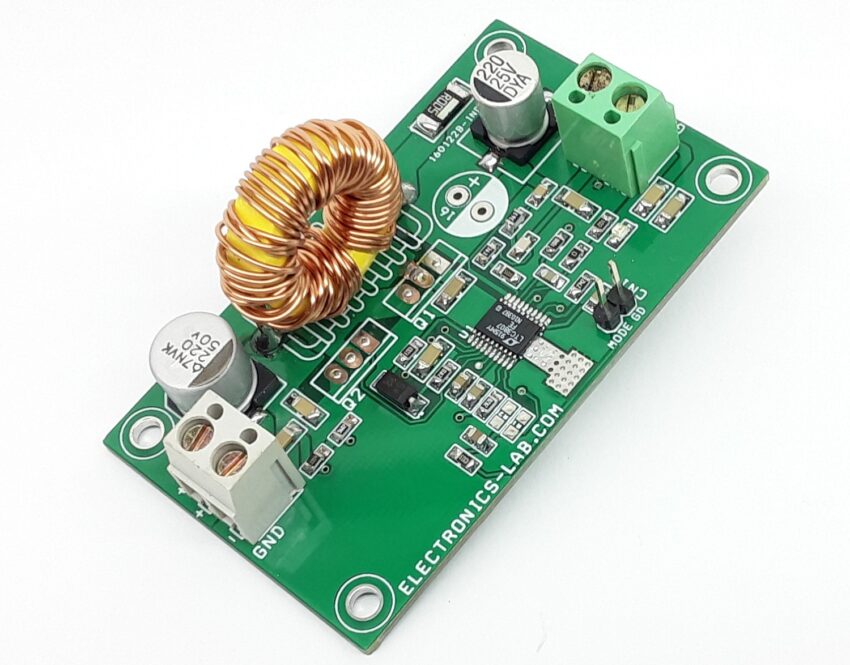 The project presented here is a low quiescent current, synchronous buck converter featuring the LTC3807. This DC-DC converts a 16V to 38V input voltage to a 12V at 6A output. The main features of this board include an internal LDO for gate drive power from VIN or EXTVCC, RUN pins, a mode selector jumper CN1 that allows the converter to run in constant current mode (CCM), pulse-skipping or Burst Mode operation, and selectable current limit. Output is fixed and provides 12V DC but it supports an adjustable output voltage. Refer to the datasheet below to learn more about the adjustable output. The circuit has also soft-start and tracking. The wide input voltage range of 16V to 38V is suitable for automotive and distributed DC power systems where the low quiescent current is essential. The operating frequency is set to 120Khz using resistor R6. MOSFETs are mounted under the PCB for easy heatsink mounting, it is important to use a heatsink for a full current load.
Main Control Loop
The LTC3807 uses a constant frequency, current mode step-down architecture. During normal operation, the external top MOSFET is turned on when the clock for that channel sets the RS latch and is turned off when the main current comparator, ICMP, resets the RS latch. The peak inductor current at which ICMP trips and resets the latch is controlled by the voltage on the ITH pin, which is the output of the error amplifier, EA. The error amplifier compares the output voltage feedback signal at the VFB pin (which is generated with an external resistor divider connected across the output voltage, VOUT, to ground) to the internal 0.800V reference voltage. When the load current increases, it causes a slight decrease in VFB relative to the reference, which causes the EA to increase the ITH voltage until the average inductor current matches the new load current. After the top MOSFET is turned off each cycle, the bottom MOSFET is turned on until either the inductor current starts to reverse, as indicated by the current comparator IR, or the beginning of the next clock cycle.
Features
Wide VIN Range: 16V to 38V (40V Abs Max)
Output 12V DC Load Up to 6Amps
Low Operating IQ: 50μA
Output Voltage 12V (Adjustable Range: 0.8V ≤ VOUT ≤ 24V Read Note 2)
Frequency 120khz
Selectable Continuous, Pulse-Skipping or Low Ripple Burst Mode Operation at Light Load
Over Current Limit
Efficiency up to 95%
Very Low Dropout Operation: 99% Duty Cycle
Inbuilt Soft-Start
Output Overvoltage Protection
Low Shutdown IQ: 14μA
Internal LDO Powers Gate Drive from VIN or EXTVCC
No Current Foldback During Start-Up
PCB Dimensions 71.44 x 41.75mm
4 x 3mm Mounting Holes
Mode of Operation
Selectable Continuous
Pulse-Skipping
or Low Ripple Burst Mode Operation at Light Load
CN1 Can be used as jumper: Jumper/Shunt Open = Pulse Skip Mode, Jumper/Shunt Closed Burst Mode, Use R16 0 Ohms Resistor to select FCM Mode (Don't Use Shunt in this Case)
External Synchronization Input to Phase Detector and Forced Continuous Mode Input. When an external clock is applied to this pin, the phase-locked loop will force the rising TG signal to be synchronized with the rising edge of the external clock, and the regulator operates in forced continuous mode. When not synchronizing to an external clock, this input determines how the LTC3807 operates at light loads. Pulling this pin to the ground selects Burst Mode operation. An internal 100k resistor to the ground also invokes Burst Mode operation when the pin is floated. Tying this pin to INTVCC forces continuous inductor current operation. Tying this pin to a voltage greater than 1.2V and less than INTVCC –1.3V selects pulse-skipping operation.
Note1: The circuit offers output current up to 6A with a safe margin. The project can provide a higher current of up to 10A with low ohmic MOSFETs. In this case, the PCB needs to have thick tracks such as 95Microns and a higher current rating inductor L1.
Note2: Output voltage is fixed at 12V DC, this can be changed and its adjustable range is 0.8V to 24V, use appropriate feedback resistors R14 and R15 values to alter the output voltage and refer to the datasheet for more information on this.
About LTC3807 Chip
The LTC3807 is a high-performance step-down switching regulator DC/DC controller that drives an all N-channel synchronous power MOSFET stage. A constant frequency current mode architecture allows a phase-lockable frequency of up to 750kHz. The 50μA no-load quiescent current extends operating run time in battery-powered systems. OPTI-LOOP® compensation allows the transient response to be optimized over a wide range of output capacitance and ESR values. The LTC3807 features a precision 0.8V reference and power good output indicator. A wide 4V to 38V input supply range encompasses a wide range of intermediate bus voltages and battery chemistries. The output voltage of the LTC3807 can be programmed between 0.8V to 24V. The TRACK/SS pin ramps the output voltages during start-up. Current foldback limits MOSFET heat dissipation during short-circuit conditions. The PLLIN/MODE pin selects among Burst Mode operation, pulse-skipping mode, or continuous conduction mode at light loads.
Schematic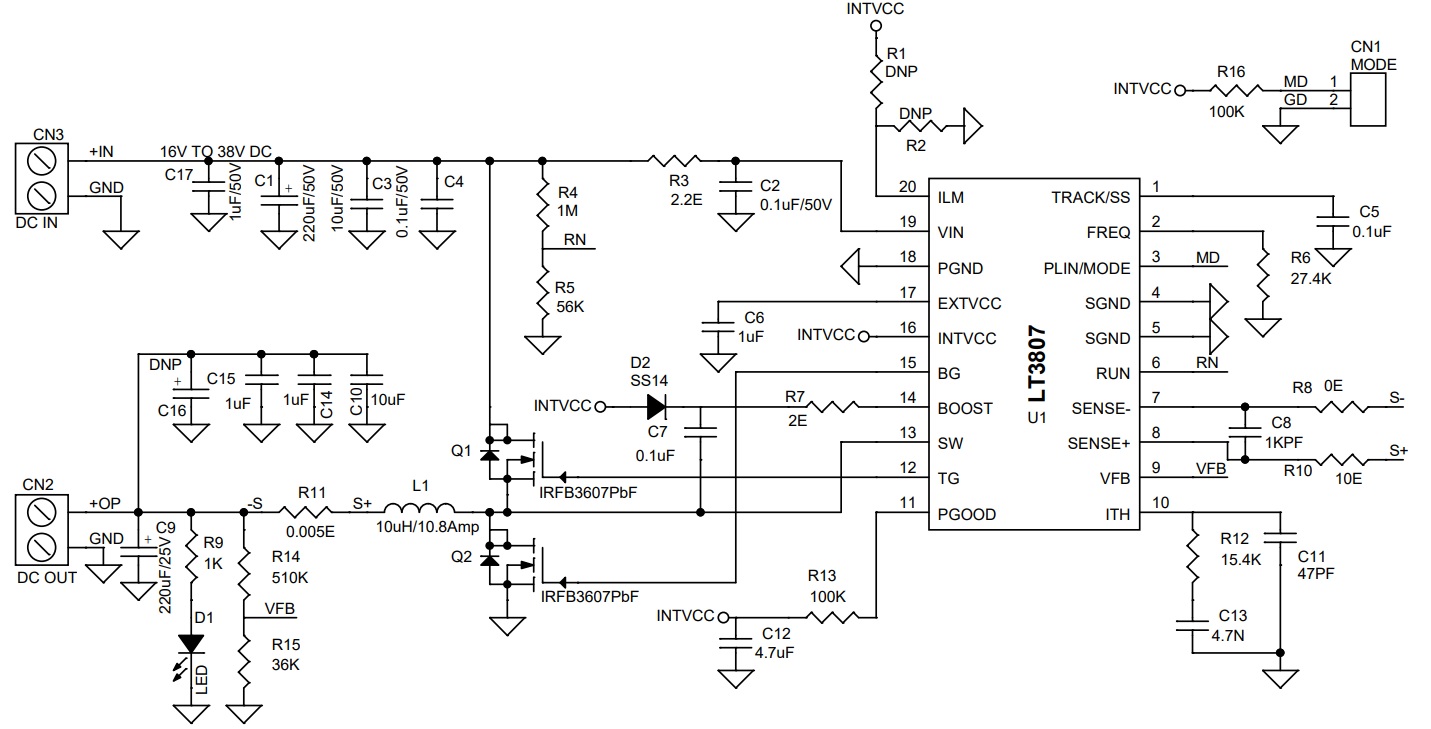 Parts List
| NO. | QNTY. | REF. | DESC. | MANUFACTURER | SUPPLIER | PART NO |
| --- | --- | --- | --- | --- | --- | --- |
| 1 | 1 | CN1 | 2 PIN MALE HEADER PITCH 2.54MM | WURTH | DIGIKEY | 732-5315-ND |
| 2 | 2 | CN2,CN3 | 2 PIN SCREW TERMINAL PITCH 5.08MM | PHOENIX | DIGIKEY | 277-1247-ND |
| 3 | 1 | C1 | 220uF/50V | WURTH | DIGIKEY | 732-8463-1-ND |
| 4 | 3 | C2,C5,C7 | 0.1uF/50V CERAMIC SMD SIZE 0805 | YAGEO/MURATA | DIGIKEY | |
| 5 | 2 | C3,C10 | 10uF/50V CERAMIC SMD SIZE 1206 | YAGEO/MURATA | DIGIKEY | |
| 6 | 1 | C4 | 0.1uF/50V CERAMIC SMD SIZE 1206 | YAGEO/MURATA | DIGIKEY | |
| 7 | 1 | SHUNT | JUMPER SHUNT FOR MODE CN1 | SULLINS INC | DIGIKEY | S9001-ND |
| 8 | 4 | C6,C14,C15,C17 | 1uF/50V CERAMIC SMD SIZE 1206 | YAGEO/MURATA | DIGIKEY | |
| 9 | 1 | C8 | 1KPF/50V CERAMIC SIZE 0805 | YAGEO/MURATA | DIGIKEY | |
| 10 | 1 | C9 | 220uF/25V ELECTROLYTIC | VISHAY | DIGIKEY | 4415PHCT-ND |
| 11 | 1 | C11 | 47PF/50V CERAMIC SMD SIZE 0805 | YAGEO/MURATA | DIGIKEY | |
| 12 | 1 | C12 | 4.7uF/50V CERAMIC SMD SIZE 0805 | YAGEO/MURATA | DIGIKEY | |
| 13 | 1 | C13 | 4.7nF/50V CERAMIC SMD SIZE 0805 | YAGEO/MURATA | DIGIKEY | |
| 14 | 3 | R1,R2,C16 | DNP | | | |
| 15 | 1 | D1 | LED RED SMD SIZE 0805 | OSRAM | DIGIKEY | 475-1278-1-ND |
| 16 | 1 | D2 | SS14 FAST DIODE | ONSEMI | DIGIKEY | SS14CT-ND |
| 17 | 1 | L1 | 10uH/10.8Amp | BOURNS | DIGIKEY | M8848-ND |
| 18 | 2 | Q1,Q2 | IRFB3607PbF | INFINEON | DIGIKEY | IRFB3607PBF-ND |
| 19 | 1 | R3 | 2.2E 5% SMD SIZE 0805 | YAGEO/MURATA | DIGIKEY | |
| 20 | 1 | R4 | 1M 1% SMD SIZE 0805 | YAGEO/MURATA | DIGIKEY | |
| 21 | 1 | R5 | 56K 1% SMD SIZE 0805 | YAGEO/MURATA | DIGIKEY | |
| 22 | 1 | R6 | 27.4K 1% SMD SIZE 0805 | YAGEO/MURATA | DIGIKEY | |
| 23 | 1 | R7 | 2E 1% SMD SIZE 0805 | YAGEO/MURATA | DIGIKEY | |
| 24 | 1 | R8 | 0E SMD SIZE 0805 | YAGEO/MURATA | DIGIKEY | |
| 25 | 1 | R9 | 1K 5% SMD SIZE 0805 | YAGEO/MURATA | DIGIKEY | |
| 26 | 1 | R10 | 10E 5% SMD SIZE 0805 | YAGEO/MURATA | DIGIKEY | |
| 27 | 1 | R11 | 0.005E/3W SMD SIZE 2512 | YAGEO/MURATA | DIGIKEY | |
| 28 | 1 | R12 | 15.4K 1% SMD SIZE 0895 | YAGEO/MURATA | DIGIKEY | |
| 29 | 2 | R13,R16 | 100K 5% SMD SIZE 0805 | YAGEO/MURATA | DIGIKEY | |
| 30 | 1 | R14 | 510K 1% SMD SIZE 0805 | YAGEO/MURATA | DIGIKEY | |
| 31 | 1 | R15 | 36K 1% SMD SIZE 0805 | YAGEO/MURATA | DIGIKEY | |
| 32 | 1 | U1 | LTC3807 20TSSOP | ANALOG | DIGIKEY | LTC3807MPFE#PBF-ND |
Connections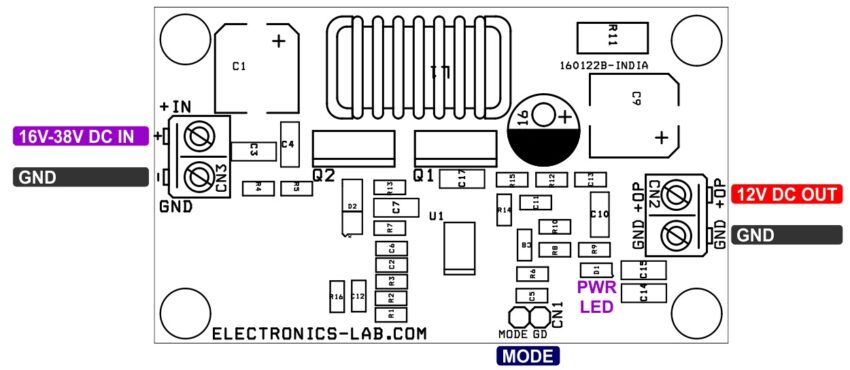 Gerber View
Photos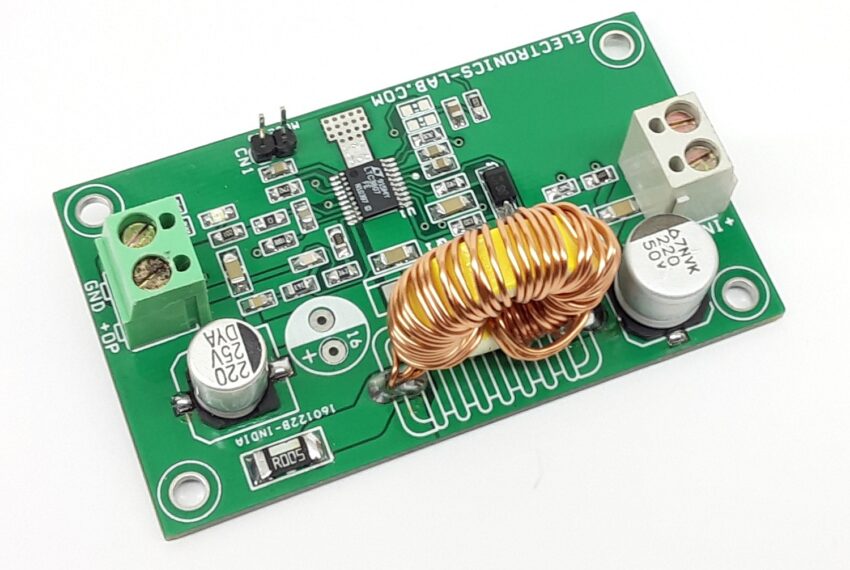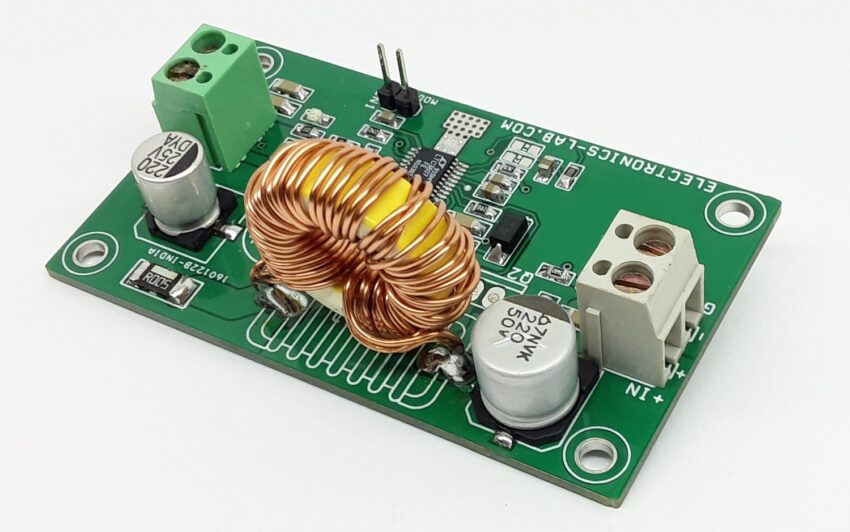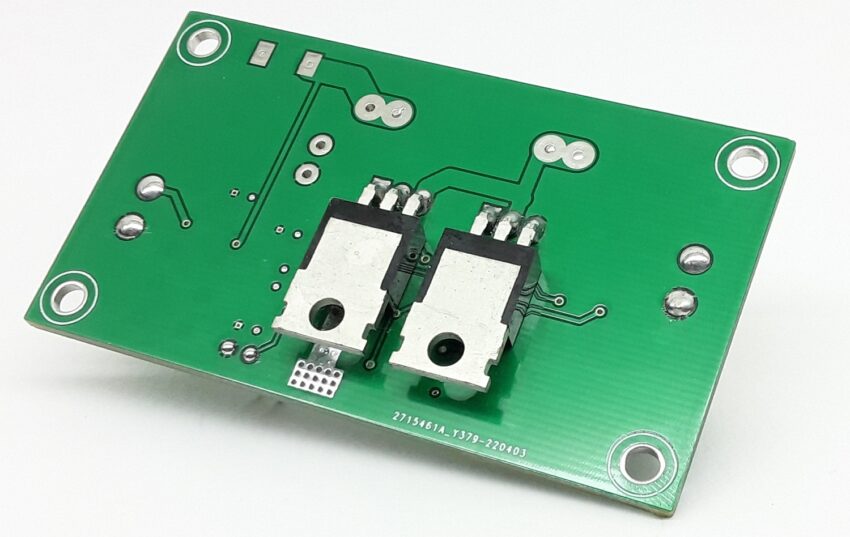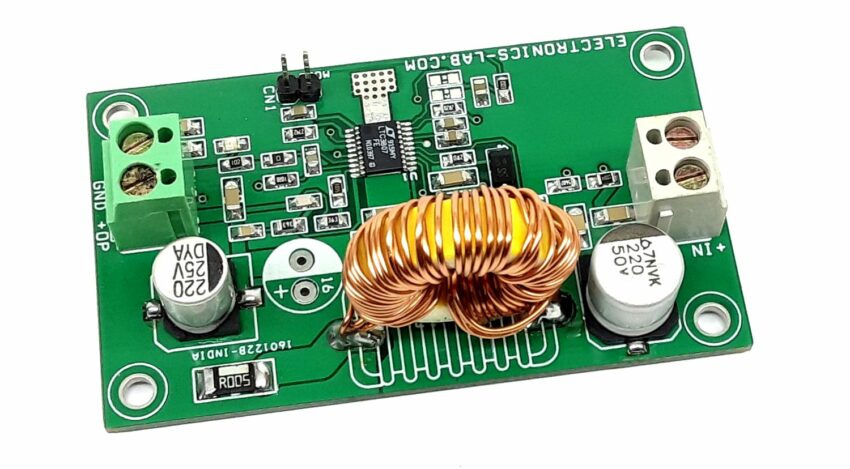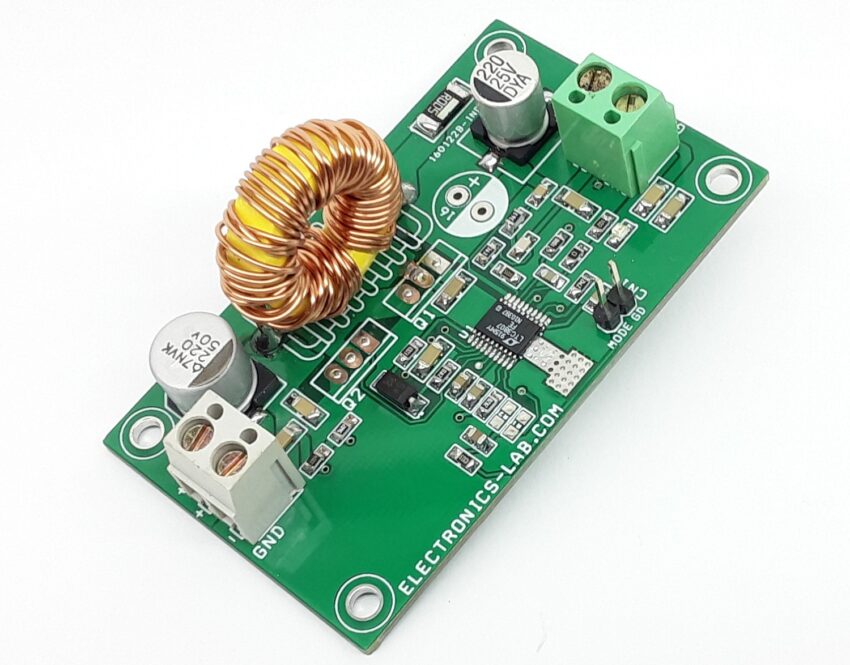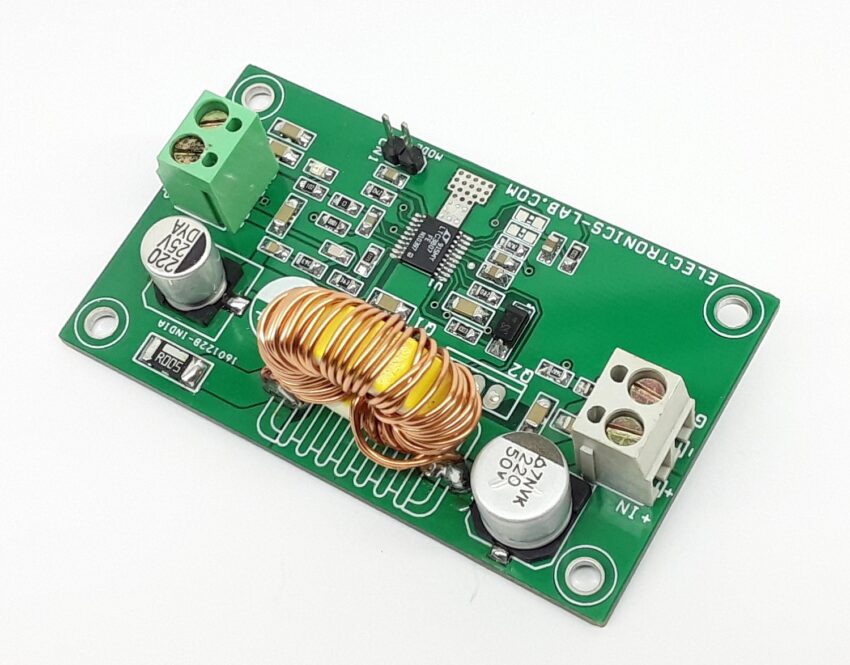 Video
LTC3807 Datasheet