DC Solid State Power Relay with Current Feedback
Rajkumar Sharma

44 Views

easy

Tested

SKU: EL130553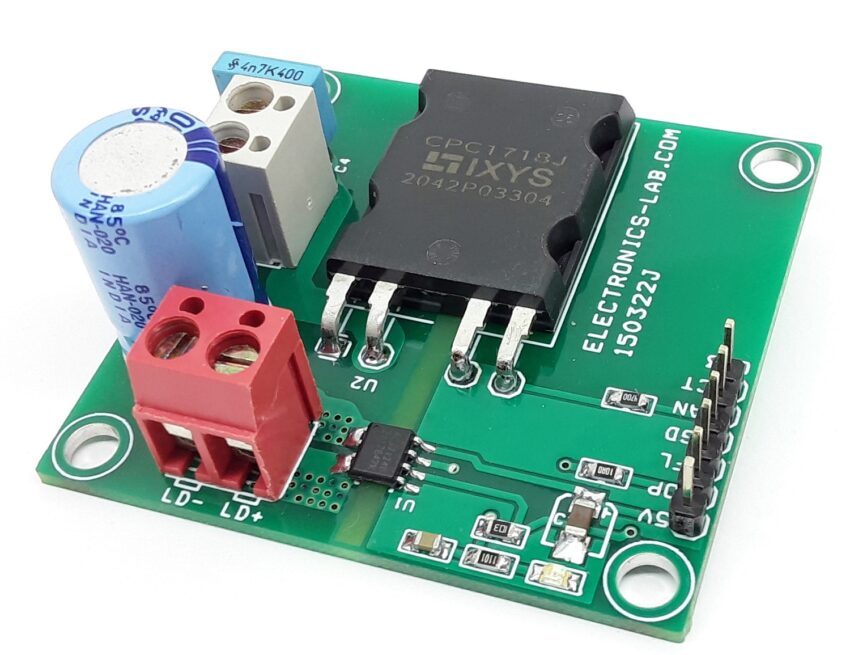 Optically Coupled Power MOSFET Relay with Galvanically Isolated Current Monitor Output
This project employs CPC1718J 100V Single-Pole, Normally Open DC-Only Power Relay and ACS71240 Galvanically Isolated Current Sensor IC with Common-Mode Field Rejection and Overcurrent Detection. The board can be used for applications such as industrial controls, motor control, robotics, and electronics switching. The relay is normally open and requires a 3.3V to 5V input signal to operate with a maximum operating load power supply of 100V DC, and load up to 6.75A without a heatsink and 17.5A with a heatsink.
Note1: The relay can handle load up to 17.5A with heatsink and 6.75A without heatsink, solder the CPC1718J relay under the PCB for heatsink mount.
Note2: ACS71240 Current sensor can measure current up to 10A. The working voltage of the chip is 3.3V. This sensor is available with various current ranges and working voltage, refer to the datasheet of the ACS71240 chip for an appropriate device as per user requirements.
Connections and Other Details
CN1: Pin 1 = VCC Input Up to 90V DC, Pin 2 = GND
CN2: Pin 1 = +Load, Pin 2 = GND-Load
D1: Power LED Logic Supply for Current Sense Circuit
CN3: Pin 1 = 3.3V Input for Current Sense IC, Pin 2 = Current Monitor Output, Pin 3 = Fault (Active Low), Pin 4 = GND(Logic), Pin 5 = LED Anode, Pin 6 = LED Cathode
Features
Load Power Supply 90V DC (Range up to 100V)
Load Current 6.75A Without Heatsink, 17.5A with heatsink and Fan
Power Relay Low 0.075W On-Resistance
2500Vrms Input/Output Isolation
Relay Turn-on Time 7.5mS to 20mS
Relay Turn Off Time 0.19mS to 5mS
Relay Input Signal 3.3V to 5V @ 10mA
PCB Dimensions 52.71MM X 50.17MM
4 X 4MM Mounting Holes
100uF /100V DC Bus Capacitor
Screw Terminals for Load and Load Power Supply
Current Sense
Operating Power Supply 3.3V DC @ 15mA
Power LED
Output 132mV/A
Zero-Current Output Voltage 1.65V
Current Sense Range up to 10Amps (Read Note2 for Higher Current)
Overcurrent FAULT available between 50% and 200% IP with 1.5 µs (typ) response time
Fault Output Active Low
Current Sensor Accuracy Error 5%
Current Monitor Output
The project also consists of a current sensor for load current feedback. The current sense circuit is built using ACS71240. The current sense output is also galvanically isolated and can be used to monitor the load current, fault condition, open load, and short circuit. The current sense circuit requires 3.3V Supply, and the sensor output is 132mV/A, Zero-Current Output Voltage 1.65V. The normal output of the current sensor is 1.65V when the load is disabled or not connected.
The ACS71240 current sensor IC is an economical and precise solution for AC or DC current sensing in industrial, automotive, commercial, and communications applications. The device consists of a precise, low-offset linear Hall sensor circuit with a copper conduction path located near the surface of the die. Applied current flowing through this copper path generates a magnetic field which is sensed by the integrated Hall IC and converted into a proportional voltage. The resistance of the integrated conductor is far less than typical sense resistors, which reduces power loss and improves efficiency.  Rejection of external common-mode magnetic fields is achieved through differential sensing, enabling high accuracy in magnetically noisy environments. A precise voltage proportional to the measured current is generated by the low-offset, chopper stabilized Hall front end
What is DC MOSFET Relay?
A MOSFET relay offers superior performance to an electromechanical relay in many applications. It is a solid-state device that replaces a coil-activated mechanical switch with an optically isolated input stage driving a MOSFET. Internally, a MOSFET relay includes an input-side LED and an output side with a photodiode a control circuit, and an output FET block.
Schematic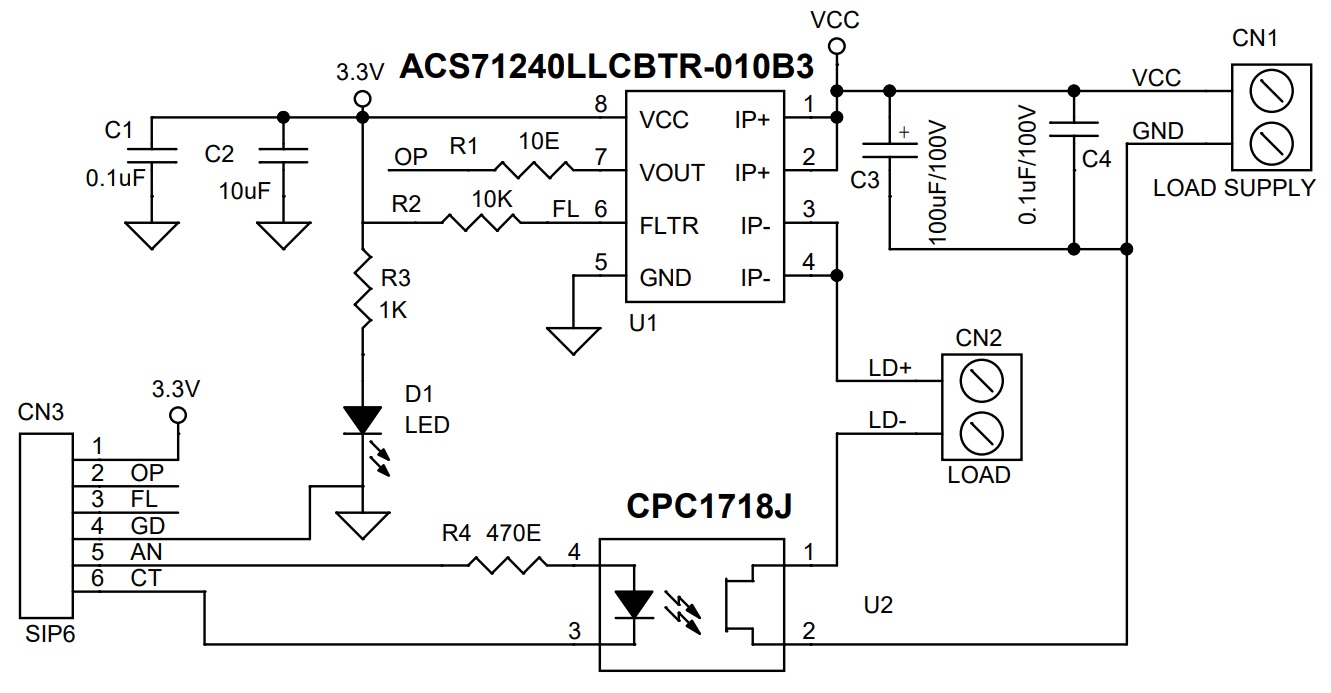 Parts List
| NO. | REF. | DESC. | DESC. | MANUFACTURER | SUPPLIER | PART NO |
| --- | --- | --- | --- | --- | --- | --- |
| 1 | 1 | CN1 | 2 PIN SCREW TERMINAL PITCH 5.08MM | PHOENIX | DIGIKEY | 277-1247-ND |
| 2 | 1 | CN2 | 2 PIN SCREW TERMINAL PITCH 5.08MM | PHOENIX | DIGIKEY | 277-1247-ND |
| 3 | 1 | CN3 | 6 PIN MALE HEADER PITCH 2.54MM | WURTH | DIGIKEY | 732-5319-ND |
| 4 | 1 | C1 | 0.1uF/50V CERAMIC SMD SIZE 0805 | YAGEO/MURATA | DIGIKEY | |
| 5 | 1 | C2 | 10uF/16V CERAMIC SMD SIZE 1206/1210 | YAGEO/MURATA | DIGIKEY | |
| 6 | 1 | C3 | 100uF/100V ELECTROLYTIC | ILLINOIS CAP | DIGIKEY | 107KBM100M-ND |
| 7 | 1 | C4 | 0.1uF/100V THT | YAGEO/MURATA | ELEMENT14 | 1166887 |
| 8 | 1 | D1 | LED RED SMD SIZE 0805 | OSRAM | DIGIKEY | 475-1278-1-ND |
| 9 | 1 | R1 | 10E 5% SMD SIZE 0805 | YAGEO/MURATA | DIGIKEY | |
| 10 | 1 | R2 | 10K 5% SMD SIZE 0805 | YAGEO/MURATA | DIGIKEY | |
| 11 | 1 | R3 | 1K 5% SMD SIZE 0805 | YAGEO/MURATA | DIGIKEY | |
| 12 | 1 | R4 | 470E 5% SMD SIZE 0805 | YAGEO/MURATA | DIGIKEY | |
| 13 | 1 | U1 | ACS71240LLCBTR-010B3 | ALLEGRO | DIGIKEY | 620-2051-1-ND |
| 14 | 1 | U2 | CPC1718J | IXYS INT | DIGIKEY | CLA315-ND |
Connections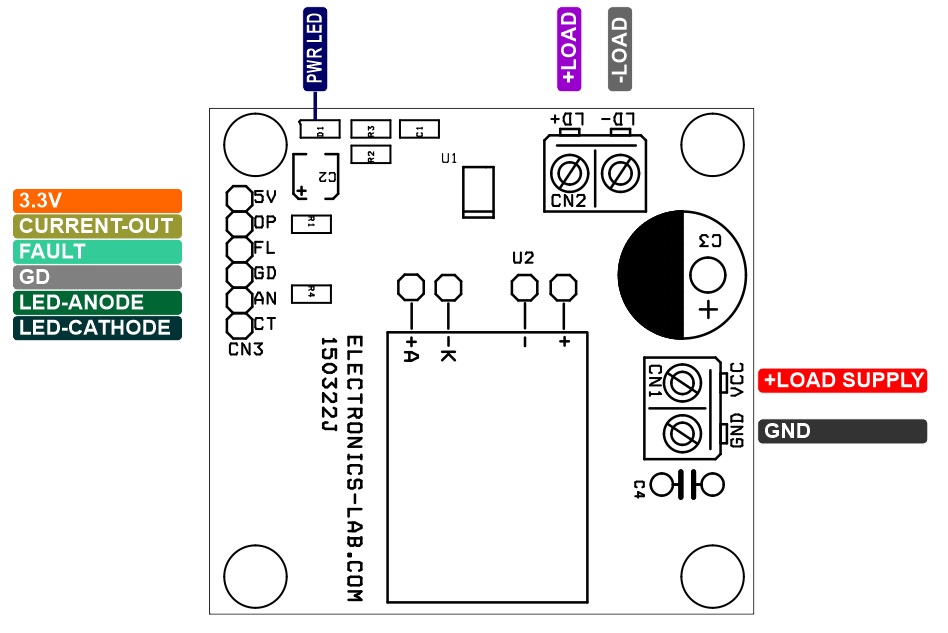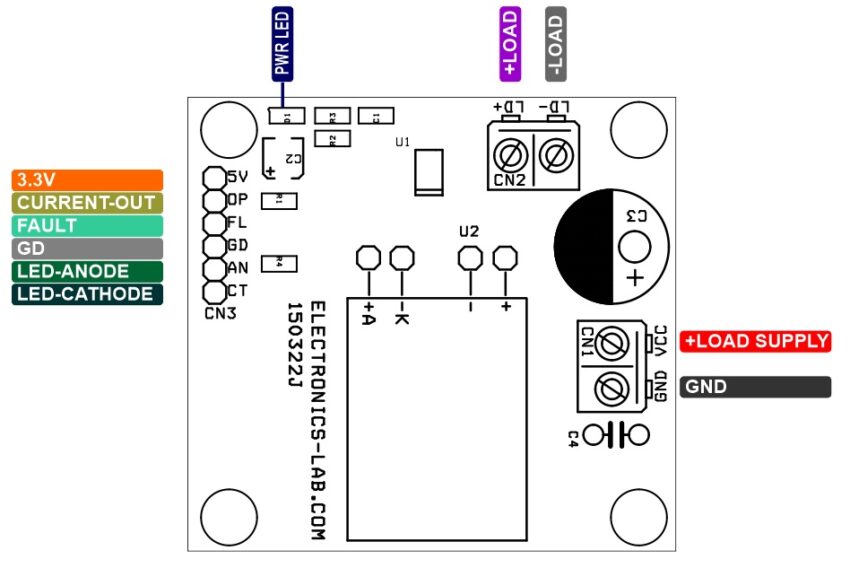 Block Diagram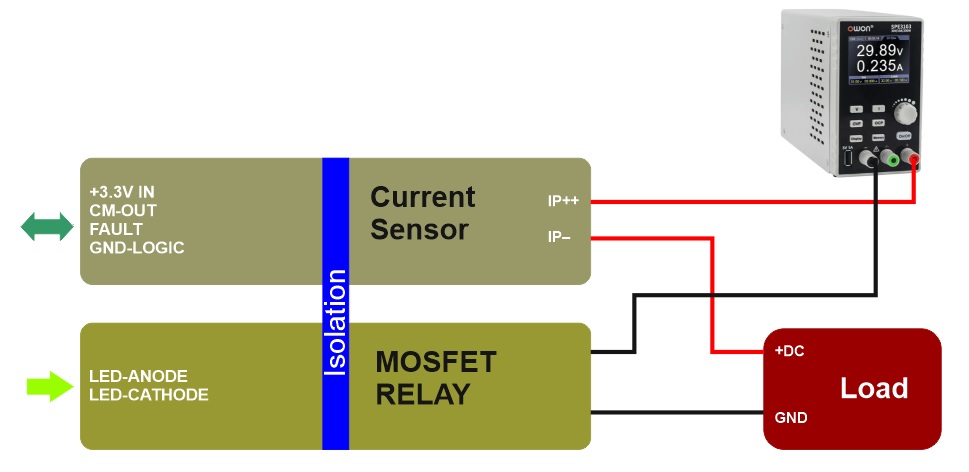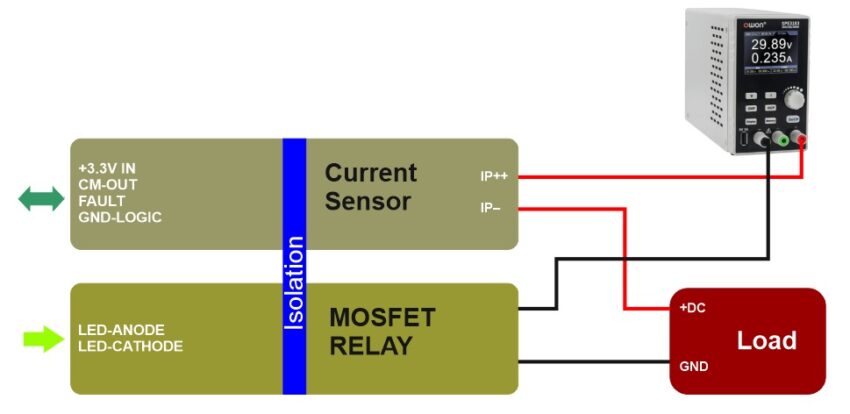 Switching Timing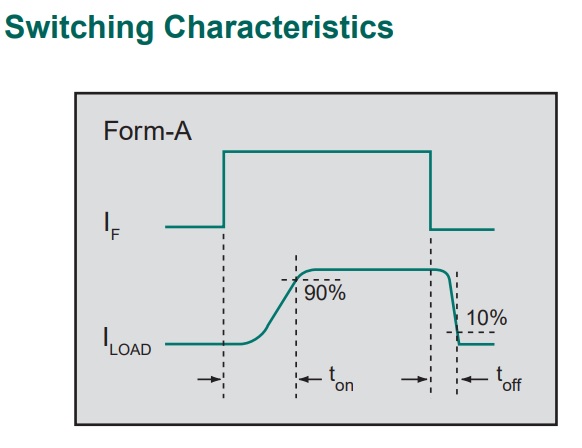 Gerber View
Photos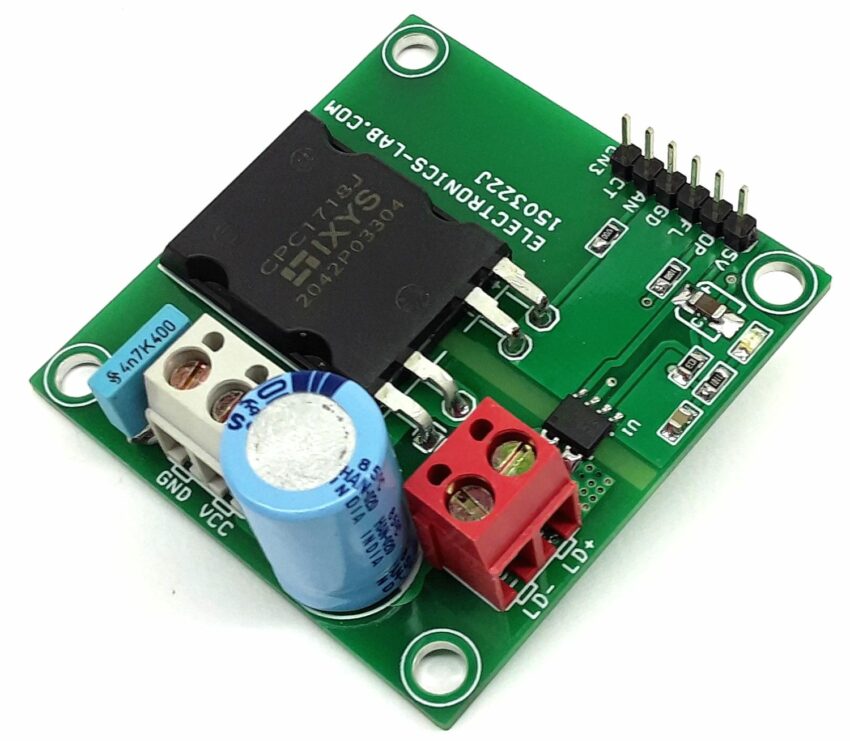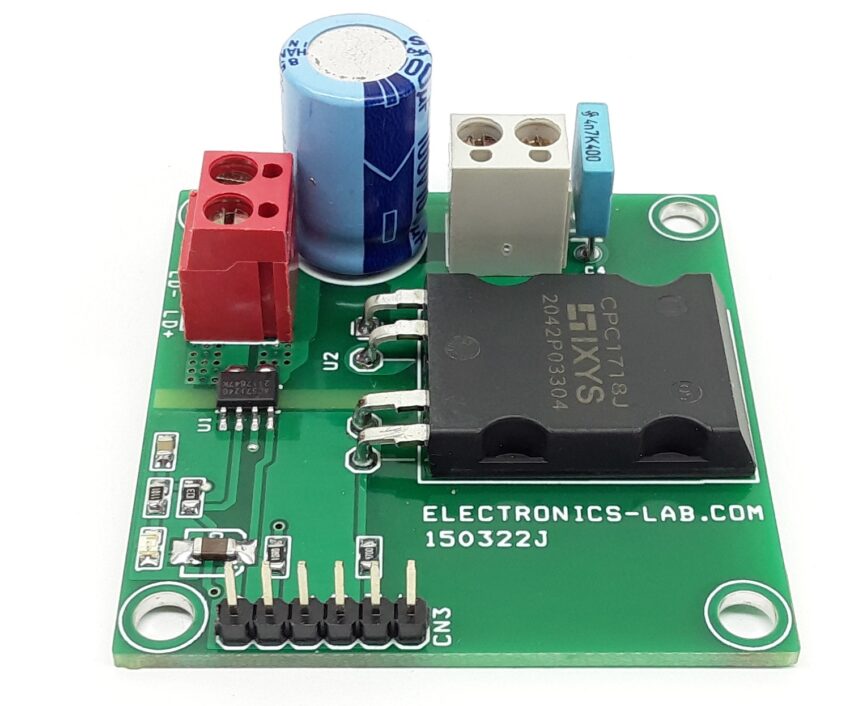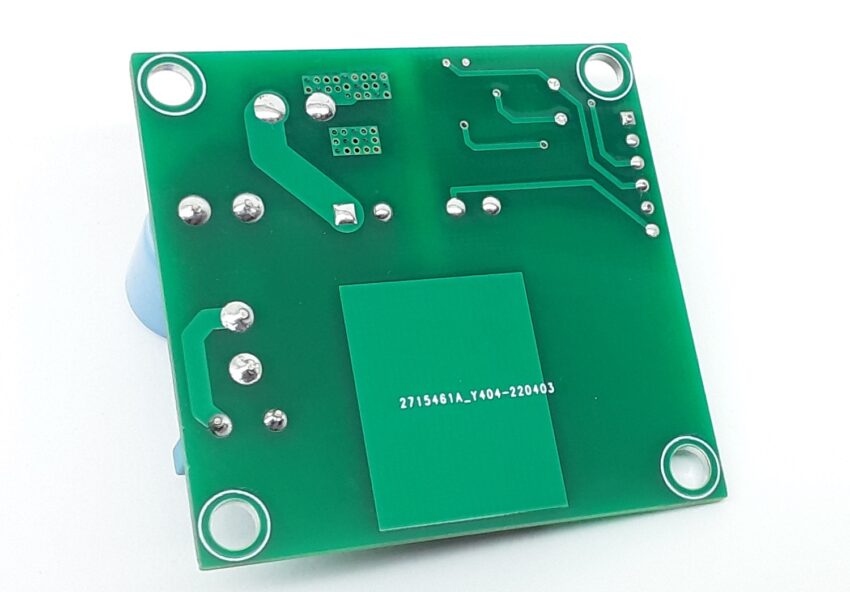 Video
ACS71240 Datasheet