Exiciting Upgrades of Elephant Robotics AI Robot Kit 2023 aims at Robotics Education and Research
Elephant Robotics introduced its first AI Kit in 2021. It is a robotic toolkit with integrated modules for vision, positioning, grabbing, and automatic sorting. AI Kit is a better resource for those just getting started in robotics and who want to learn about machine vision and AI. Elephant Robotics has thoroughly revised the AI Kit in response to the ongoing development of technology, enhancing the hardware's quality and refining the software and built-in algorithms to make the product more extensible and scalable. The Artificial Intelligence Kit 2023 has a wide range of applications and is highly open and expandable. It is simple to use for robotics research and study, higher education training platforms, or individual learning and project development.
The Artificial Intelligence Kit 2023 is newly enhanced with five significant image recognition algorithms and seven hardware improvements, enabling six robotic arms of Elephant Robotics. With the help of this kit, users can study the fundamentals of robotics from 8 different perspectives while using visualization software. Positioning, grasping, and automatic sorting are all possible. The software can be used to implement the control of the robotic arm using the Python platform. Users can benefit from the open-source creative culture, understand the fundamentals of artificial intelligence, and more with AI Kit 2023.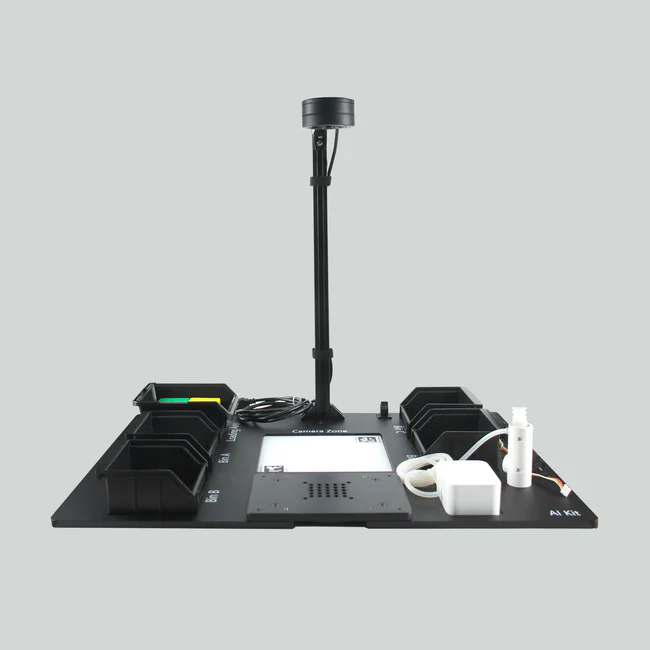 Features
Machine vision is a technique that employs machines to take the position of human eyes in the recognition, assessment, and measurement of target objects. The key technologies used in machine vision which uses computers to replicate human vision include target image acquisition, image information processing, and target object measurement and recognition. The basic components of a typical machine vision system are the vision perception unit, the image information processing and recognition unit, the processing result display unit, and the vision system control unit.
5 Major Visual Recognition
The AI kit has five major visual recognition algorithms built in. Also, users can use four different forms of QR CODE identification to discover how 2D and 3D relate to one another. Users may easily master the You Only Look Once (YOLOv5) algorithm and comprehend image segmentation and features with the aid of feature point recognition.
Color recognition AI Kit 2023 operates in eye-to-hand mode, uses OpenCV to localize colors, frames out colored objects, and uses the relevant point location to determine the objects' spatial coordinate position with respect to the robotic arm. With the algorithms, the robotic arm on AI Kit 2023 will automatically distinguish the color items and classify them into the correct bins.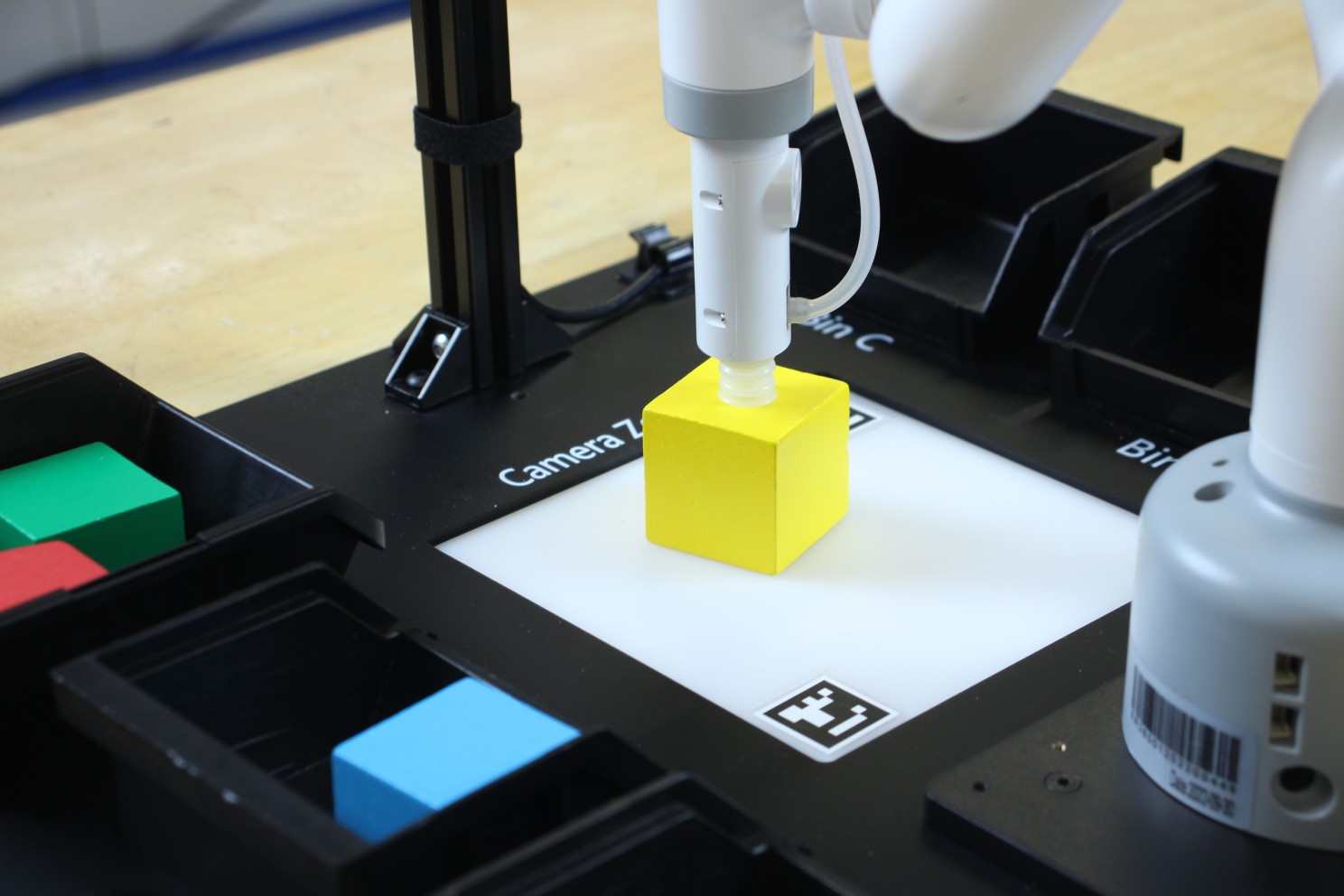 Aruco codes help to increase the quantity of information that can be mapped from the two-dimensional environment to three-dimensional time. To allow the recognition of 4 different codes, Elephant Robotics has incorporated recognition algorithms into AI Kit 2023. Users can learn about related location applications and recognition techniques.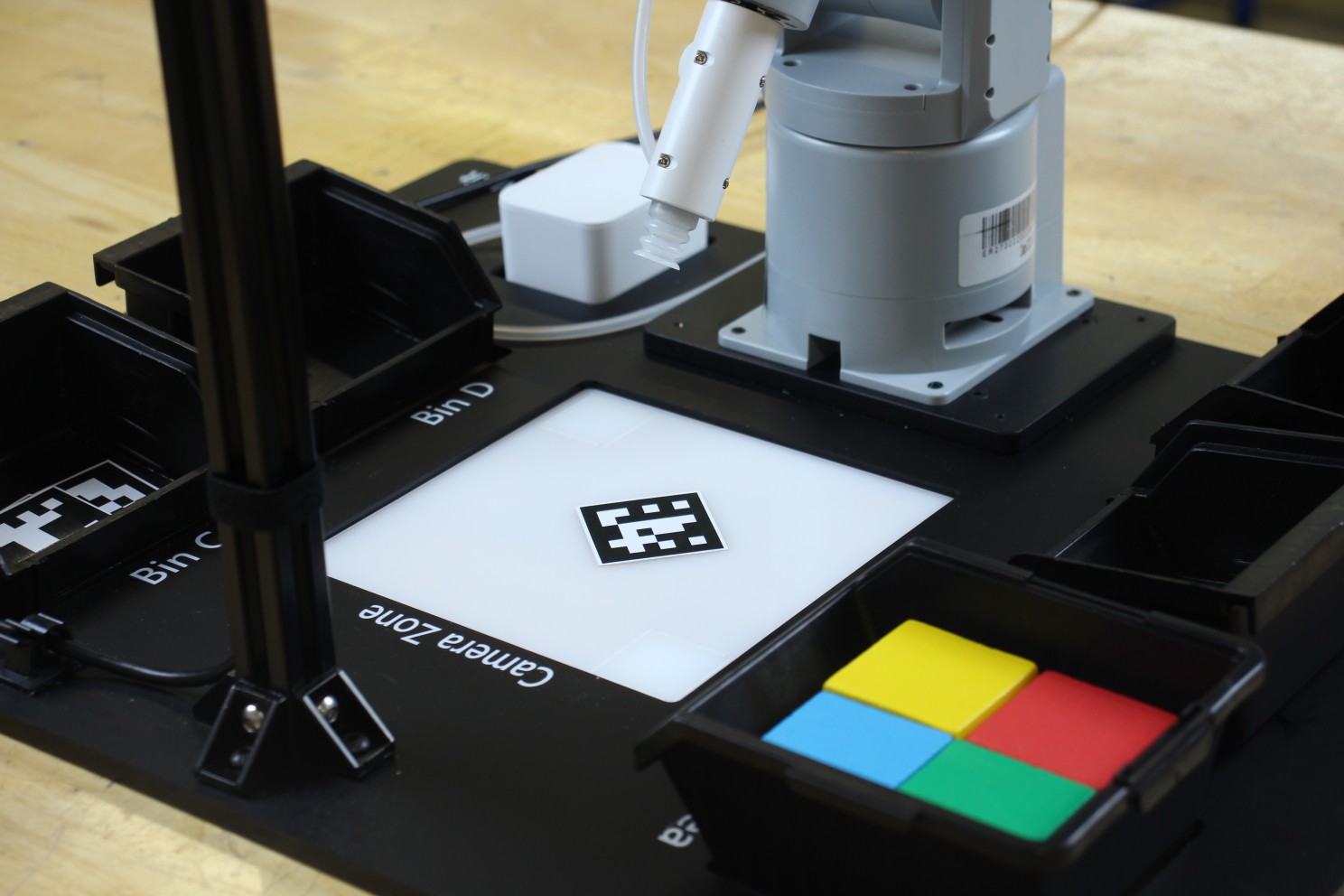 Feature point describes the capacity to represent an image or target in the same or very comparable invariant form in other similar images, including the same scene. By comparing the differences between the pixel points and the 16 pixels in the surrounding field, the feature points are identified, and the segmentation test algorithm significantly increases the detection efficiency. Users can learn picture segmentation, interpret image feature points, and save image features with the use of this AI Kit 2023 algorithm.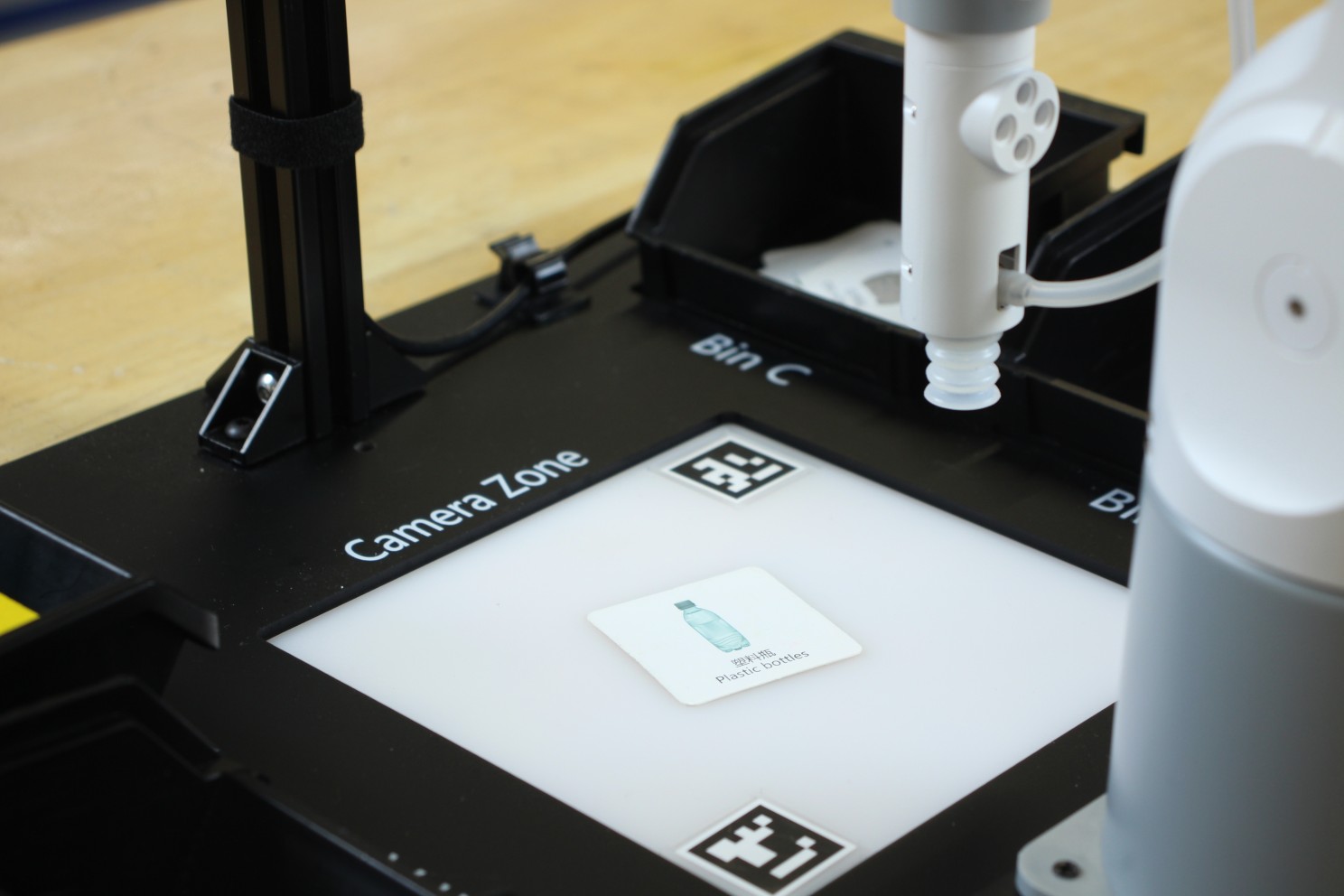 YOLO is a particularly well-liked model architecture and object identification method. Elephant Robotics creates this algorithm using the YOLOv5, the most recent version included in the AI Kit 2023. YOLOv5 makes further enhancements on the basis of the YOLOv4 algorithm, and the detectability, including speed and accuracy, is further strengthened. Users of YOLOv5 can gain a greater knowledge of artificial intelligence, including the idea behind the application of deep learning and neural networks.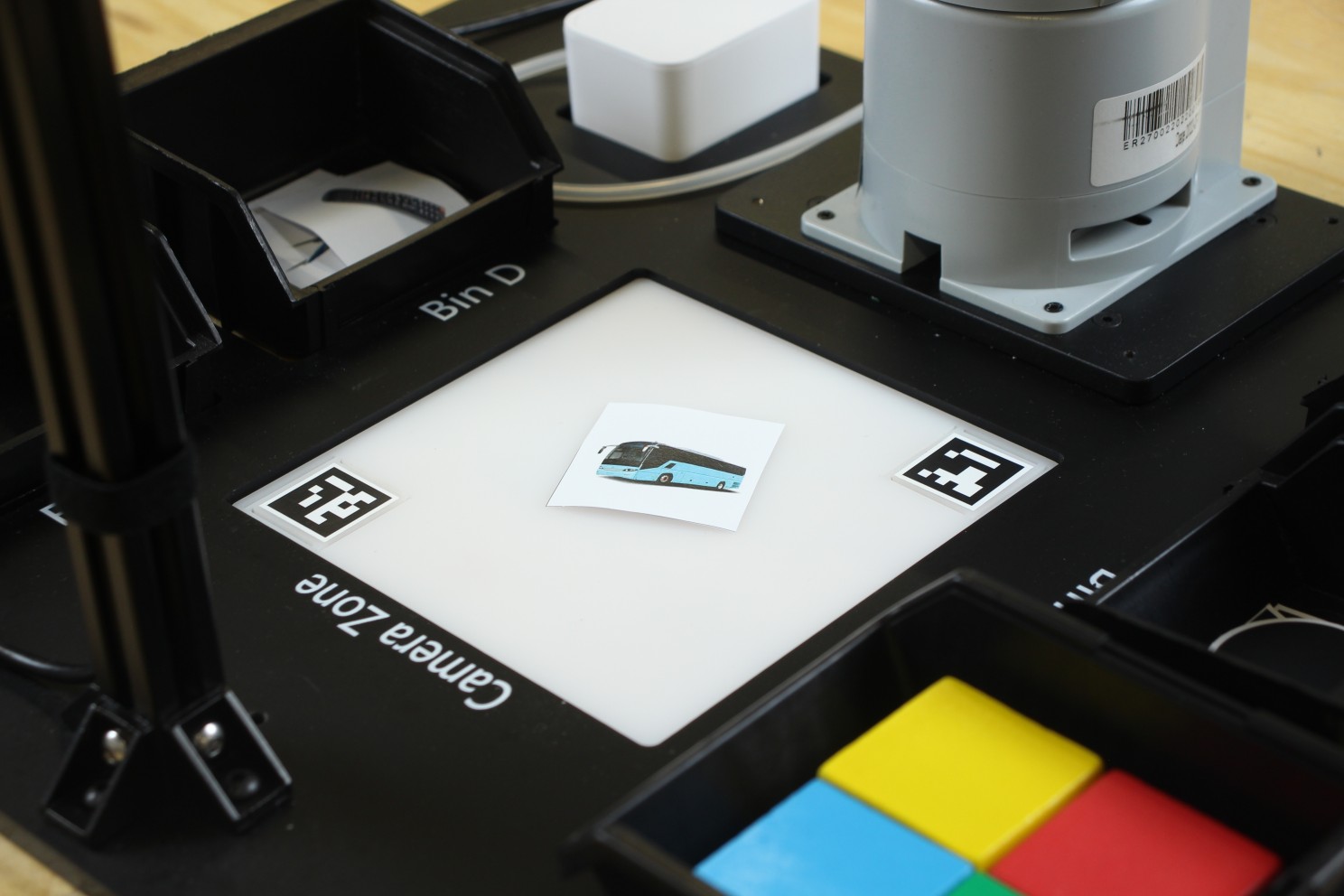 Pattern recognition has a lot to do with how we recognize the shapes of objects. In computers, object shapes are represented in a variety of ways. Many alternative shape identification techniques have been put forth based on different shapes, including techniques based on fourier descriptors, principal component analysis, and invariance distance. It is crucial to recognize the pattern components that serve as the recognition's foundation in shape recognition.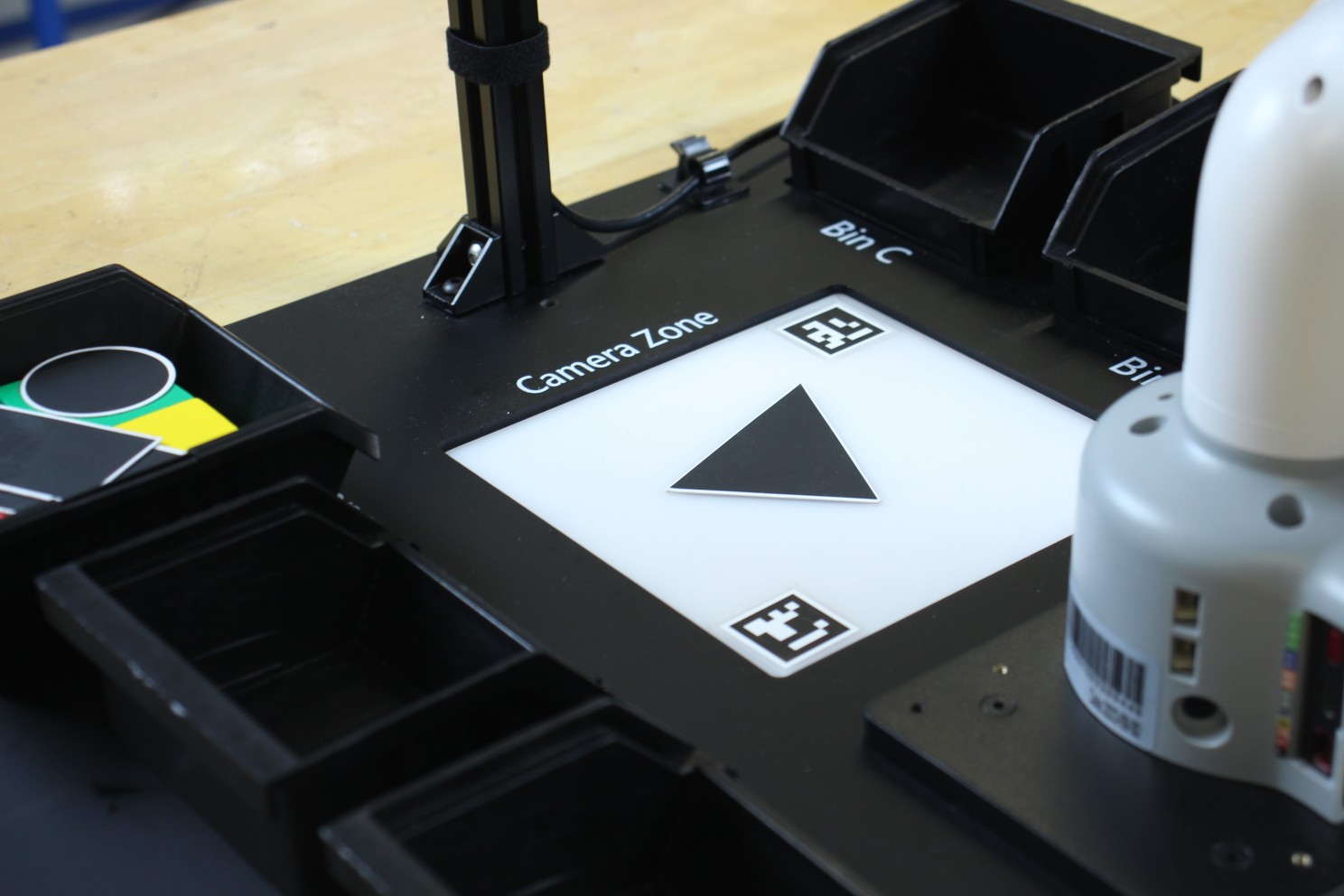 Specifications
Hardware upgrades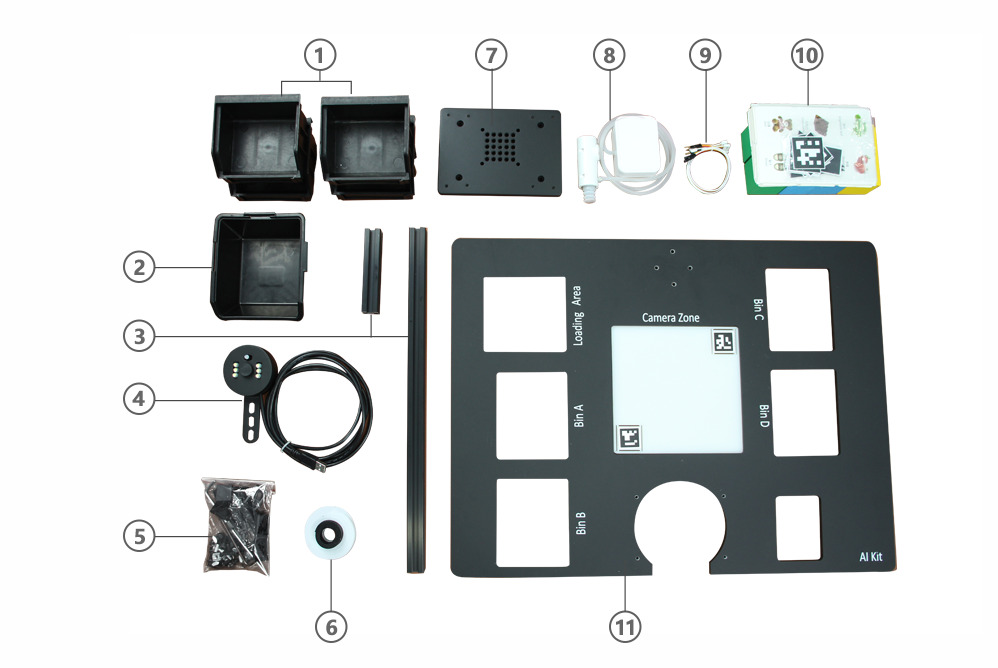 Hardware-wise, AI Kit 2023 increases the number of parts boxes in various sizes to help the robotic arm classify items more accurately. Second, AI Kit 2023 employed a camera that was more accurate and had its lightness adjusted to improve the robotic arm's identification capabilities. In order to improve its adaptability and stability when working with various robotic arms, Elephant Robotics has also improved the suction pump that is positioned at the end of the robotic arm.
4 x Small bin
Big bin
2 x Camera extrusion strand
Camera
Accessories pack
Black and white velcro
Arm base
Suction pump
Suction pump connection wire
Image cards and Wooden blocks
Acrylic plate
The above list is the kit components of an AI robot in which a small bin, big bin, camera extrusion stand, camera, arm base, suction pump, and acrylic plate are hardware upgrade that comes with AI robot kit 2023.
AI Kit 2023 has an acrylic base with a screen print.
It has a universal robotic arm-fixing Base
It has a 2-megapixel USB camera and a fill light camera.
Also included in the package are an aluminum extrusion stand, large and small bins, and a suction pump V2.0.
Pearl sponge is used for packing.
Recognition speed is 300 ms for color/shape/QR code and 600 ms for feature points.
The dimension is 500 X 400 X 405 mm.
Recognition accuracy is about 3 mm.
The camera name is USB distortion-free camera.
Image pixels are 2M 1080p.
Supported image formats are- MJPG/YUY2 with a pixel size of 3.0 um x 3.0 um.
The maximum frame rate for MJPG:1920*[email protected] and YUV:1920*[email protected]
The power supply is around DC 5V 90 mA.
It is a 110° Field of view with no distortion.
The lens focal length is 2.8 mm.
The supported system are Windows XP/7/8/10/VISTA/SEVEN/MAC LINUX(include uvc)/Raspberry Pi/Android 4.2+
Comparatively MyCobot AI Kit comes with an acrylic base with no screen print, and the robotic Arm fixing base is only suitable for myCobot 280 with 1 megapixel USB camera. The camera bracket is made of a fiber tube and a suction pump, and other parts like a material box, rash bins, and EVA Packing sponge are provided.
Software updates
The AI Kit 2023 from Elephant Robotics has customization options and built-in visualization software. Users of this software have the direct option to choose from a variety of algorithms to carry out various tasks and modify coordinates. Users may interact with and manipulate data in a variety of ways thanks to the visual interface, which also makes it easy to swiftly identify, retrieve, and manipulate data. Now that AI Kit 2023 is more user-friendly, even beginners who are new to programming or have no prior experience with code can use it with a few simple clicks.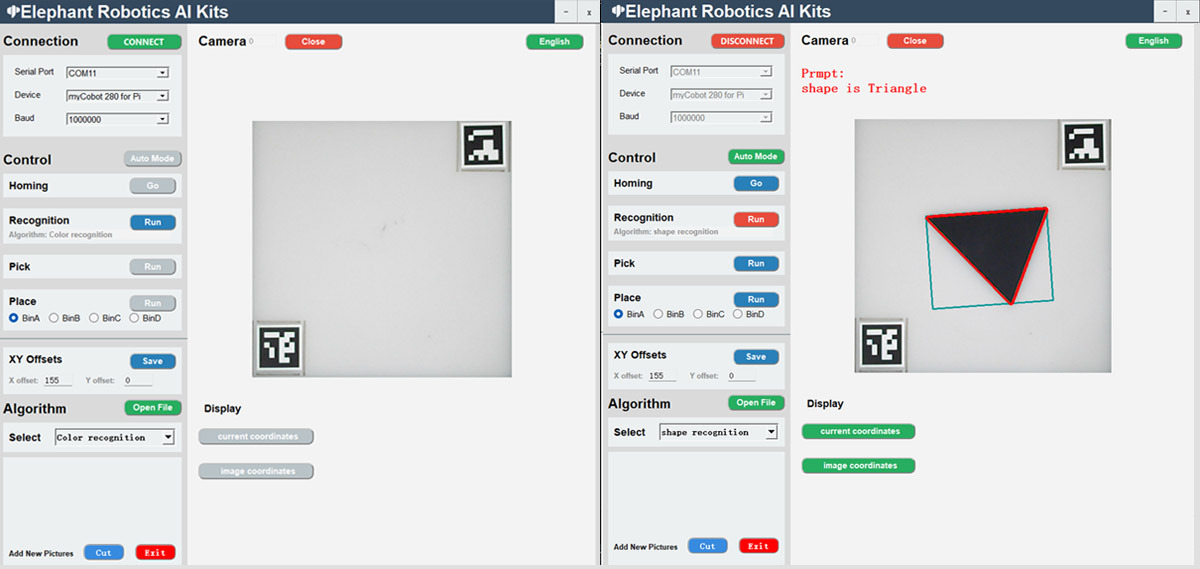 According to the product page, Elephant Robotics improves the AI Kit 2023 modifications to enable it to be paired with six robotic arms, including the M5Stack and RaspberryPi versions of myCobot 280, myPalletizer 260, and mechArm 270.

Applications
Numerous educational institutions and universities have already accepted AI Kit 2023 as an instructional tool for professional or laboratory use, enabling students to learn to better grasp artificial intelligence, robotic programming, and automation. Elephant Robotics is concentrating on creating more and better robotics kits and solutions in order to expand the use of robotics in research and education and to offer the technology and education sector more comprehensive conditions. Learning OpenCV, Python, ROS, Inverse Kinematics, Hand-eye calibration, Robot vision, Robot control concept, and End-effector use are all possible with the help of the vision education kit.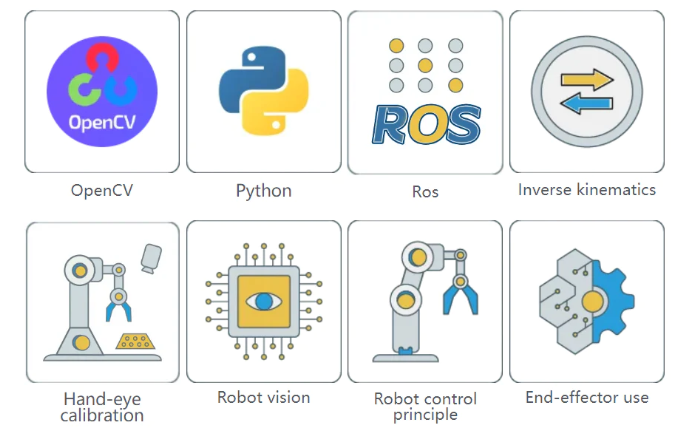 Purchase information
Elephant robotics shop sells artificial Intelligence Kit 2023 For MyCobot/MyPalletizer/MechArm Robotic Arms at $1,048.59 without shipping which is a great kit for robotic algorithms and machine vision learning.
Additional information
Textbook and Tutorials for Robotics
Elephant Robotics has also launched a handbook on machine vision programming and control to offer comprehensive support to experimental and practical instruction. Programming languages, robotic arms, vision sensors, and other topics are covered in the book. For K–12 schooling, educational institutes, and colleges, it is the ideal option. Students will benefit from robotics through experiential learning with easier operation when utilizing AI Kit 2023 with the aid of the tutorials and textbooks. Also, Elephant Robotics will regularly post videos on YouTube and Hackster about programming the AI Kit 2023.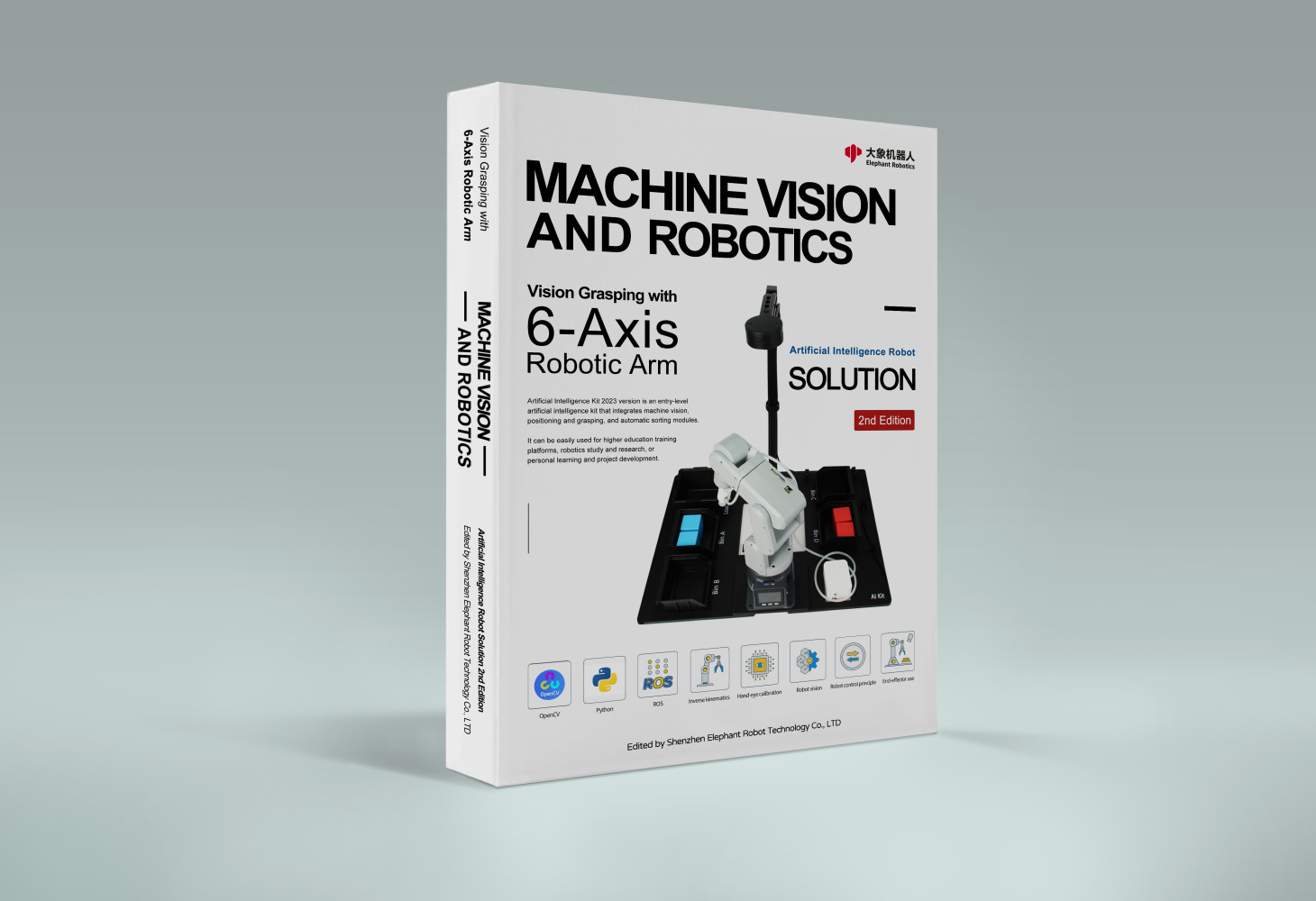 Join 97,426 other subscribers
Archives